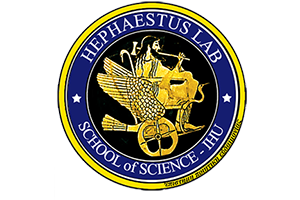 HEPHAESTUS ADVANCED LABORATORY
Member Short Description
HEPHAESTUS ADVANCED LABORATORY
RESEARCH DIVISION ON RISK, HAZARDS, CRISES, AND SAFETY
SCHOOL OF SCIENCE
INTERNATIONAL HELLENIC UNIVERSITY
"Hephaestus" is an advanced research lab within School of Sciences of International Hellenic University (IHU), which is based on the University Campus of Kavala.
Hephaestus Lab aims to serve as a center of excellence both academia and industry (locally and internationally) to this direction towards a successful development of an innovation ecosystem in our region with a possible contribution to the global problem. Ιt has built 15 new innovative products, which have received Patents from the Greek Industrial Development Organization. The laboratory is staffed mainly with faculty members of IHU, from the Department of Chemistry, the Department of Physics, the Department of Informatics and postdoctoral fellowships in the Sciences, Engineering Sciences, Law, and Social Sciences. The laboratory "Hephaestus" has a computer center where the supercomputer system (GRID – Computing Center) operates, more than 20 work positions. In addition, spaces are available for research of large scientific instruments with a total area of 1,000 sq.m. Hephaestus lab comprising three main sections:
Material science that covers the area of porous materials, from synthesis to characterization and from nanotechnology to oil & gas reservoir engineering (catalysis, membrane technology, flow in porous media are some examples).
Electrical engineering that specializes on remote electrical measurements.
Mechanical engineering that covers metrology, robotics, and renewable energy systems.
In the laboratory "Hephaestus" operates a Research Division of Risk, Hazards, Crises and Safety with Research Director Dr. Michail Chalaris, Assistant Professor of the Department of Chemistry of the HU and Retd Major General (HFCs). The Scientific Potential which constitutes the above structure, provides scientific services related to the analysis and management of man-made and natural disasters, organizes, and implements a series of actions related to Civil Protection issues. This Research division aims to foster high-level research and development, to provide customized services to the local and wider public, business, and industrial community, and at least to establish itself as a provider of high-level educational output in the areas of Risk, Hazards, Crises, and Safety in the micro and macro environment.