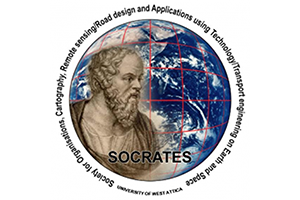 RESEARCH LABORATORY S.O.C.R.A.T.E.S.
Member Short Description
RESEARCH LABORATORY S.O.C.R.A.T.E.S. UNIVERSITY OF WEST ATTICA
The Research Group activities' which operates in the field of Geoinformatics (Geographic Information Systems, Cartographic Databases, Remote Sensing, etc.), are threefold:
Research / Research Projects / Consultancy
E-learning
Life Long Education – Learning using state-of the-art technologies and innovative methods.
The primary aim of the Research Group is to participate in the diffusion and implementation of technologies, data and knowledge of Geoinformatics at the Private and Public sector
The research group S.O.C.R.A.T.E.S. focuses on applied and fundamental research in all scientific and technological fields of Geoinformatics, such as:
Geographic and Cartographic databases (design, development, implementation, monitoring, metadata development, update),
CASE-tools for Geographic databases, etc.,
Modelling / Re-modelling / Reverse Engineeringof procedures, databases and data flow of organisations,
Digital Cartography
Geographic Information Systems (G.I.S.) (Design, implementation in organisations, development of G.I.S. design methods, development of innovative G.I.S. applications in various sectors, etc.)
Development of innovative Remote Sensing applications in sectors like: environment, water resources management, land planning, defence, etc.