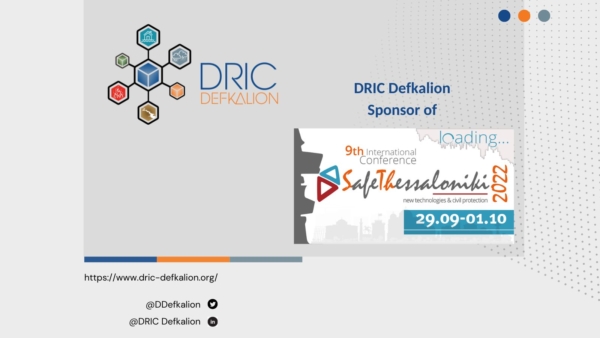 We are pleased to announce that the Disaster Resilience Innovation Cluster Defkalion, DRIC Defkalion, will participate as a sponsor in the 9th International Conference on Civil Protection & New Technologies SafeThessaloniki2022, that will place on 29 September – 1 October 2022 in Thessaloniki, Greece.
The 9th International Civil Protection Conference is organized in collaboration with the Regional Development Fund of Central Macedonia, the Region of Central Macedonia and the Chamber of Greece / Section of Central Macedonia in the premises of the Thessaloniki International Fair and in parallel with the Beyond 4.0 Expo. The event will bring together people from Science and Technology, Local Governments and Central Administration, Private Sector and Voluntary Organizations from Greece and abroad aiming to:
strengthen interdisciplinarity and cooperation in Civil Protection,
demonstrate new technological achievements for the benefit of Civil Protection,
exchange of experience, lessons learned and good practices,
discuss contemporary challenges about Civil Protection
DRIC Defkalion supports the conference's goals, aiming to highlight the importance of developing innovative solutions in the critical area of protection, management and response to natural disasters, environmental crises and Civil Protection emergencies.
The Agenda is available here.
DRIC Defkalion is coordinated by the Institute of Communication and Computer Systems (ICCS) of the School of Electrical and Computer Engineering (ECE) of the National Technical University of Athens (NTUA), and consists of 37 members (businesses, scientific research organisations and technology companies). DRIC Defkalion offers innovative value solutions and cutting-edge technology products that can effectively meet today's challenges. At the same time, it favors the development of synergies between the research community and businesses, both private and public initiatives, in order to effectively address the challenges that Civil Protection faces on a daily basis.
More information about SafeThessaloniki2022 can be found here.