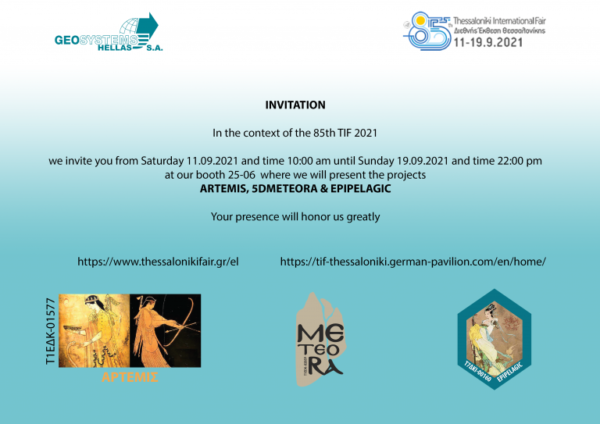 Geosystems Hellas, an active member of the Disaster Resilience Innovation Cluster DRIC Defkalion, will participate in the 85th TIF 2021 and invites you from Saturday, September 11, 2021 at 10:00 a.m. until Sunday, September 19, 2021 at 10:00 p.m. at its booth No 25-06, where the projects ARTEMIS, 5dMETEORA & EPIPELAGIC will be presented.
GEOSYSTEMS HELLAS S.A. [GSH] was established in November 2009 as the newest member of GEOSYSTEMS EU GROUP (www.geosystems-group.eu). Is a Greek SME with 9 high skilled engineers in the core team and a network of professionals engaged time by time on a project basis. GSH Core Business / Expertise:
Remote Sensing and photogrammetry applications providing high level engineering and management consultancy in the space sector
Big Data, Data Fusion and Data Analytics techniques, Engineering and Analysis as well as System and Software Engineering
Airborne Lidar 3D monitoring techniques and applications, sensor calibration services
Smart/Safe cities
Blue / Green Growth – monitoring and applications
GIS/WebGIS
Visit the official website of the company for more information: https://www.geosystems-hellas.gr/
Follow Geosystems Hellas on social media, Facebook, Twitter and LinkedIn.