Athens, 3rd of November 2021
The first coordinated, interdisciplinary and Collaborative Formation in Greece in the critical field of protection from environmental and climate risks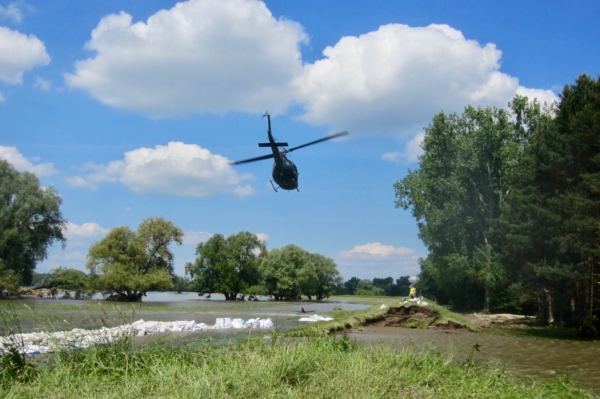 Climate-related and environmental risks are one of the major problems and challenges humanity faces today on a global scale. The increasing incidences of extreme weather events, such as heat waves, droughts, fires, floods, earthquakes, emphasise the urgency of adapting to climate change and tackling its effects on multiple levels of our lives. The brand new Disaster Resilience Innovation Cluster Defkalion – "DRIC Defkalion" is the first coordinated, interdisciplinary and innovative collaborative action in Greece that is active in the critical field of protection against environmental risks. DRIC Defkalion was established in the light of the increasing natural and environmental disasters with the aim of tackling climate change and disasters by taking adaptation measures to mitigate their effects.
The primary purpose DRIC Defkalion is to bring together businesses, scientific research organisations and technology companies focused on developing products, systems and services for the management and response to natural disasters, environmental crises and emergencies in the field of civil protection in the Environment & Sustainable Development – Climate Change sector. Through this cluster of forces, know-how and experience it will be possible to successfully produce and introduce new products and services to the market, as well as intermediate research results, such as product prototypes, patents and intellectual property in general (IPR).
DRIC Defkalion also focuses on the provision of technical training, education and consulting to both its members and the Greek business ecosystem that is active in the field of management services, protection and response to natural disasters, environmental crises and civil protection emergencies. The goals of DRIC Defkalion also include bridging the gap between the academic and business community and strengthening research in its areas of activity. Thus, the main services offered by DRIC Defkalion aim to strengthen networking, extroversion, innovation and entrepreneurship in general.
DRIC Defkalion is coordinated by the Institute of Communication and Computer Systems (ICCS) of the School of Electrical and Computer Engineering of the National Technical University of Athens (NTUA), and consists of 36 members. The members of DRIC Defkalion specialize in the following areas of activity:
Atmospheric Modelling, Meteorological and Ocean Forecasts and Climate Change Scenarios
Earth Observation, GIS Applications, and Spatial Analysis
Disasters' impact assessment and development of mitigation solutions
Information and Communication Technologies
Systems and Procedures for enhancing Operational Preparedness, Efficiency and Security
Risk, hazard and vulnerability assessment
Decision support and feasibility assessment
Training and Consultation
Interoperability Issues
Dr. Angelos Amditis, Research Director at the Institute of Communication and Computer Systems (ICCS) of the School of Electrical and Computer Engineering (ECE) of the National Technical University of Athens (NTUA) and DRIC Defkalion Coordinator notes: "It is now indisputable that we are going through an era of unprecedented changes in the planet's climate that have resulted in a rapid increase in natural disasters. Efforts to reduce the effects of climate change require immediate, rapid and large-scale action. The increase in the frequency and intensity of extreme weather events emphasize the need for collective and collaborative action, the world of research and innovation must respond with enhanced institutional tools and orderliness. This gap is being filled by DRIC Defkalion, a modern hub for the production of innovative know-how and advanced solutions that will enhance the processes of managing, protecting and responding to natural and environmental crises and civil protection emergencies."